Build Your Brand Awareness with Banner Ads at Pictona at Holly Hill

There is a direct correlation between multiple exposures to banner ads and increased brand awareness.
Combine Pickleball, the fastest growing sport in the nation, and Pictona at Holly Hill, one of the finest facilities in the world...
And you have a winning venue for growing your brand awareness!
• In 2021, Pickleball grew to 4.8 million players in the US, an incredible two-year growth rate of 39.3%*
• Membership at Pictona has grown to 925+... nearly 1000 members!
• Member check-in now exceeded 100,000 at Pictona!
• In December 2022, Pictona hosts the Qualifying Tournament The U.S. Diamond Amateur Championships plus PPA, APP, and more!
• More than 500 classes have been hosted in the Senior Activity Center with 5,652 attendees and counting!
• The estimated financial impact to the community is at $116 million over 4 years. Pictona draws visitors from all over the United States - and some internationally filling hotels, and benefitting local restaurants and shops in the Greater Daytona Region.
*Sports & Fitness Industry Association's (SFIA) 2022 Topline Participation Report, released in Feb. 2022
Pictona's Banner Sponsorships are the perfect solution for brand advertising to establish connections and build strong relationships with Pictona's members and the community over time. Companies that use our banners as brand advertising aim to get positive recognition and identity-building with an incredible community resource. A sponsorship at Pictona establishes a connection with people interested in active, healthy living and valuing an excellent quality of life.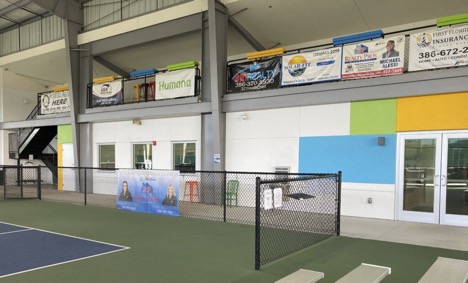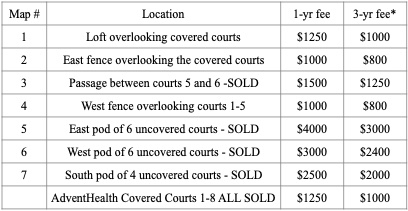 AVAILABLE NOVEMBER 2022
Fence Banner Space outside Metro Health Stadium: $1,500 per year for three years or $2000 for one year
Metro Health Stadium Covered Court Cost: $2,000 per year for three years or $2,500 for one year
We are taking reservations for these 6' wide x 2.5' tall banner spaces on a first-come, first-serve basis. Please contact Deb Christensen at 678-654-4111  to tour the new facility and pick out your banner space after the Grand Opening on November 20th.
*The 3-year rate is an annual fee with a 3-year commitment.  Lock in this low rate as we rapidly expand over the next 3 years.
With the purchase of a Banner display, add the Digital Ad Package for $500, a 50% discount. 
 
Contact Deb Christensen • 678-654-4111 • debc@pictona.org
CLICK HERE FOR ADDITIONAL INFORMATION