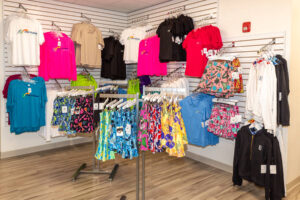 Welcome to Pictona's Player Shop. We don't call it a "pro shop" because most of our members don't qualify as "pros." However, we have a fantastic collection of pickleball and related products to improve your game and looks. Paddles and balls, hats and gloves, shirts and skirts – you'll find premium items in the Player Shop. If you like our logo you'll find it on a fine selection of t-shirts and polo shirts in various colors and sizes for women and men in both short and long sleeve. We carry eyeguards and wristbands, cool bandannas and tacky grip towels, and many other items to make your pickleball game safer and more enjoyable. In addition, you'll find specialty items such as Pictona license plates, thermal cups, mouse pads and more! We're especially proud to carry a complete line of Pickleball Bella clothing which is designed and manufactured by our own Nancy Tedeschi and Kim Bowles.
New to the Player Shop
We're pleased to add Caribbean Sol products to the Player Shop.  Their products combine the earth's purist minerals to create all-natural, sustainable, biodegradable, environmentally, and people-safe sun and skin care formulas.  Check out Caribbean Sol Sport (non-greasy, dry grip formula SPF 30), Faces Only (SPF 20 natural/biodegradeable formula), lip balm (natural lip protection with sunflower butter and organic aloe), and Kurit (a new healing product to help penetrate and heal any type of sting, sore, cut, or abrasion).
You'll find it all just inside the main entrance called the Welcome Desk.