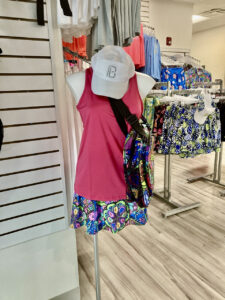 Welcome to Pictona's Player Shop. We don't call it a "pro shop" because most of our members don't qualify as "pros." However, we have a fantastic collection of pickleball and related products to improve your game and looks. Paddles and balls, hats and gloves, shirts and skirts – you'll find premium items in the Player Shop. If you like our logo you'll find it on a fine selection of t-shirts in various colors and sizes for women and men in both short and long sleeve. We carry eyeguards and wristbands, cool bandannas and tacky grip towels, and many other items to make your pickleball game safer and more enjoyable. In addition, you'll find specialty items such as Pictona license plates, thermal cups, mouse pads. andmore! We're especially proud to carry a complete line of Pickleball Bella clothing which is designed and manufactured by our own Nancy Tedeschi and Kim Bowles.
New to the Player Shop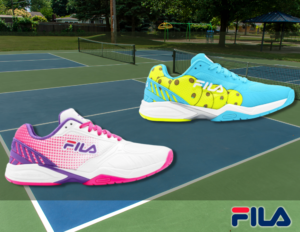 The Player Shop recently received a small shipment of new Fila shoes.  We have a limited supply of both men's and women's sizes and colors so check out the Fila table underneath the TV in the Player Shop.  We hope the supply chain issues will ease up one of these days!
You'll find it all just inside the main entrance called the Welcome Desk.