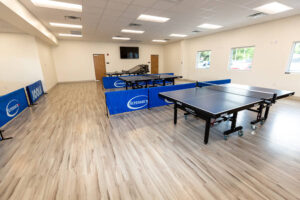 Pictona is Florida's newest facility focused on the paddle sports of Table Tennis and Pickleball.
A 1200 sq ft dedicated indoor space with four Joola Tour 2500 club tournament tennis tables awaits Pictona's Table Tennis members! The Pictona Table Tennis Club is open to everyone and accommodates all age groups and skill levels.
Table Tennis Club play is scheduled for Tuesday and Thursday nights from 6 - 9 pm. We just added an additonal slot for table tennis club,  Saturday 9-12.  Open Play is available during all other times Pictona is open, scheduled events not withstanding (The Games Room is currently committed for use Monday evening and Wednesday morning for Line Dancing and Tuesday and Friday morning for Balance and Motion). Call ahead to the Welcome Desk (386-310-7067) to check availability.
Have questions or want to know more about playing Table Tennis at Pictona?
Contact:  Steve Croak - Senior Activity Center Director
Email: scroak@pictona.org ; Phone: 386-310-7067