Kitchen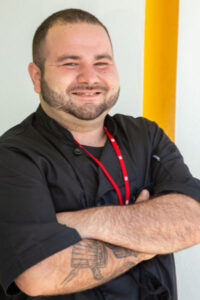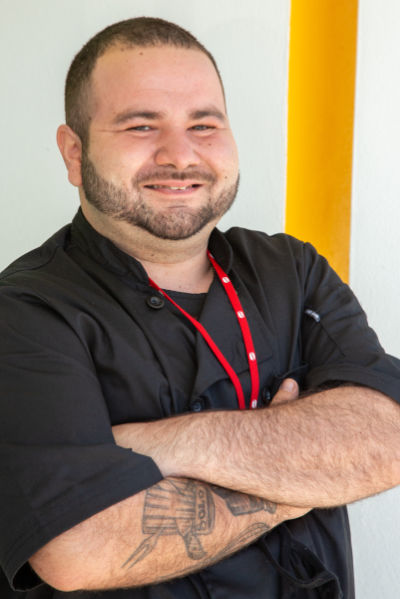 We are open again! 11 am until 9 pm. 
Meet our new Kitchen Manager, Josh Ricasolo. 
Briana is back as our lead server and she's accompanied by Nicole and Paige. In the back of the house we have Lee Lee and Zach preparing your food.
Some old, some new. We kept on the menu the most popular items from the past and have added many new items. You told us you wanted more "grab and go," so we've added a tasty selection of wraps and sandwiches which can be served quickly. We've added two salads to the menu, two flatbreads, and two quiches. And be sure to try our seven smoothies that will give you that healthy pickup before, between, and after play.       
Let us know what you think of our new menu. We have a suggestion box on the counter. The Kitchen is a service for you and the public. We want to offer the foods and beverages you want.
Please support the Kitchen! It's a vital part of our operating income.        
Kitchen Parking
We have six reserved spaces for the public to park when coming to the Kitchen. Please only use these spots if you are coming specifically to visit and enjoy the Kitchen as well as to order or pick-up food from the Kitchen. If you are coming to play, please use any of the other parking spots on property. 
Ladder Tournament
We've seen some outstanding play in the ladder tournament with nearly 200 people participating. We've heard some suggestions for adjusting the rules and format. At the end of January when the tournament ends, we will ask all participants to respond to a survey so we can determine the best adjustments.
League Play
We will begin league play in early February. The rules and procedures will be available in early January.
Preservation Palace Restrooms
Now that the outside courts are preferred by most players, the Preservation Palace restrooms are open. Once again, we thank Bill Cook for brightening them up with new lights and paint. The City will be installing new vent fans to complete the work.
Chamber of Commerce Banquet
We will host the holiday party for the Holly Hill Chamber of Commerce on December 17th from 6-8 pm at the SR Perrott Pavilion. Please welcome our guests (you'll know them because they won't have pickleball playing clothes on) if you are here that evening. They represent the businesses of Holly Hill.
Picnic Tables
We purchased 10 unassembled picnic tables. We thank the following people who volunteered to assemble them: Debi Baker, Renee Machovec, Richard and Adria Kelley, Edwin Cosio, Ray Pinamonti, and Kevin Grimes. Eight tables are in the Pavilion and 2 are by court 8.
More Games
Need to take a break from your addiction to pickleball! Play table tennis in the Games Room or try your hand at croquet, shuffleboard, bocce ball, and horseshoes. We have "world class" facilities for these activities.
Bainbridge Cup
As you likely know Pictona is hosting the International Federation of Pickleball's (IFP) Bainbridge Cup (BC21) from April 7 to 11, 2021. Previously the tournament was held in Spain, Italy, Germany, and scheduled for Great Britain this past summer but canceled due to Covid-19. This will be the first time BC21 has been held in the United States. Players of all skill levels are eligible. The world will be divided at the Mississippi River with eastern U.S. and Europe representing one team and western U.S. and Asia representing the other. Professional pickleball players will be selected to coach each team.
By contract, Pictona is limited to registering 100 players in the initial registration process. Our players will be able to register in advance. You can read more about BC21 at  https://www.pickleballtournaments.com/tournamentinfo.pl?tid=4612. We'll keep you posted about registering for this exciting event.
Humana teamed up with Island Doctors to acquire the naming rights to BC21 which now and forever more is known as Humana-Island Doctors Bainbridge Cup Tournament, a mouthful, but a helpful contribution of $25,000.
New Instructional Program Director
Beginning January 1, 2021, Lu Kandt is our new Instructional Program Director. She will work with all our instructors to ensure we are offering consistent and outstanding instruction to students in our various courses. Lu will be expanding our curriculum and will serve as a liaison with our private instructors. Thank you Lu for accepting this position.
Event Manager
Want to host a birthday, anniversary or retirement celebration at Pictona? Call Sarah Lockett. Sarah is our Event Manager and is responsible for arranging non-pickleball events at Pictona.
Humana and Community Gardens
We're pleased to announce that Humana is sponsoring our community gardens, now the Humana Community Gardens for $7500 per year for three years. Welcome Humana! And speaking of the gardens, Julie and I harvested our first strawberries this week. The tomato plants are flowering, but the pepper plants look hopeless. Enjoy gardening? We have a few more plots available. See Rynn Goldstein if you are interested.       
Court Repairs
Have you wondered why it's so hard to hit an around-the-post shot? I know I have. 
Well, we found out that the net posts were installed 3" too wide. NIDY, the court contractor, has developed a fix to move the posts in 3 inches on each side. You can see that fix on court 20. Over the next month or two they will fix all of the courts in the same way.
Covid-19
It's wreaking havoc across our country. Most of you have been terrific about wearing masks and we thank you for doing so. Remember, you can take the mask off when you enter the court and but please put it back on BEFORE leaving the court. Take the mask off when you enter the court and put it back on before leaving the court. I know all of us are tired of wearing masks, but I ask you to please stay vigilant. It's easy to forget to re-mask when walking off the courts, but DON'T. Hopefully over the next six months we will be able to shed the masks.
YMCA
Many of you said to me "the only thing missing from Pictona is a swimming pool." Watch for more details about Pictona assuming the management of the YMCA building located directly across Ridgewood Avenue, which is owned by the City of Holly Hill, to create the Pictona Activity Center. The facility includes a large heated swimming pool to be used year around for aquatics activities, a large gymnasium for basketball and volleyball, and exercise equipment along with group exercise spaces. We plan to offer an expanded membership option to you to use the PAC. I'll let you know much more about this development and will be asking you to respond to a survey so we know your interest and the types of activities you would like to see.
Award
Pictona was the recipient of the Best Public-Private Partnership for building Pictona, so designated by the Florida Planning and Zoning Association Surfcoast Chapter. Joe Forte, City Manager, accepted the award on behalf of the City and Julie and Rainer Martens did so on behalf of Martens Charities at the Halifax Yacht Club on December 11, 2020.  
Give a Gift
Greet a new player.
            Play a game with a less skilled player.
                        Adjust your play to help a less skilled player.
                                    Avoid arrogance on the court.
                                                Give the gift of friendship.
                                                            Happy Holidays.