Ospreyland Parking
We may now begin parking in Ospreyland Parking lot because the surface is sufficiently stabilized. Please read the complete instructions for parking here.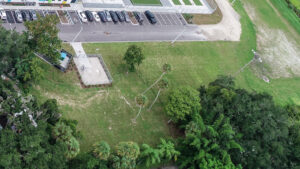 You may enter Ospreyland from the east using the driveway by the fenced lift station and dumpster. Please do not climb over the curb to enter or exit. We are unable to mark the spaces for parking because each Wednesday the grass will be mowed. That means:
NO PARKING IN OSPREYLAND ON WEDNESDAYS.
Without markings, parking will be chaotic unless we all follow these guidelines. Review the photo of Ospreyland that is attached to this article.
All Welcome Desk staff please park to the north of the lift station and the dumpster, keeping the paved spaces on the north side for members.
All members please park in rows, the rows running east to west.
Leave plenty of room to enter and exit the lot.
Exit the lot at the west end.
We have plenty of room for three rows of parking, one next to the curb, one in the middle and one along the north fence.
DON'T BLOCK ANYONE IN SO THEY CAN'T GET OUT.
All Kitchen employees please park in the paved south parking lot.
Members, please respect the six reserved spaces for the public to access the Kitchen which are located to the east of court 8.