BOO!
Pictona's inaugural Halloween event, Dink 'n Treat, is scheduled for Saturday October 31st 4.30pm – 6.30pm.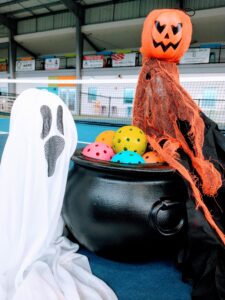 Pictona members are encouraged to invite their families, friends, ghouls and monsters to join us as we celebrate Halloween with fun children's games and Pickleball play. Entry to Pictona's Halloween Dink 'n Treat event and pickleball play during the event is free for members and non-members. No registration is necessary. Costumes are highly encouraged for children and adults!
Children can Trick and Treat and win free candy as they play their way through a variety of games that include  feeding monsters, bowling over giant candy corns, capturing witches hats with hoops and scoring points playing pickleball Skee-Ball! Toddlers will have their own game area with fun games to play.
Pickleball players are encouraged to play in costume as we play spooky music throughout Pictona (please wear athletic shoes on the Pickleball courts). Prizes will be given to the top 3 Halloween costumes!
The Kitchen will offer a kid's menu along with a Count Dracula's Bloody Mary special for adults.
Come join us for a few fun filled hours and bring your friends and family who have been dying to check us out!
In the lead up to Pictona's Halloween Dink 'n Treat you may notice two cauldrons in the lobby for collecting candy. Help us ensure we have enough candy for the ghouls and monsters by dropping off a bag the next time you come into play.
Not able to get to the store to pick up a bag of candy? Drop your change, a $5, $10 or $20 bill in the giant Pumpkin Head on the Welcome Desk and we will do the shopping for you!