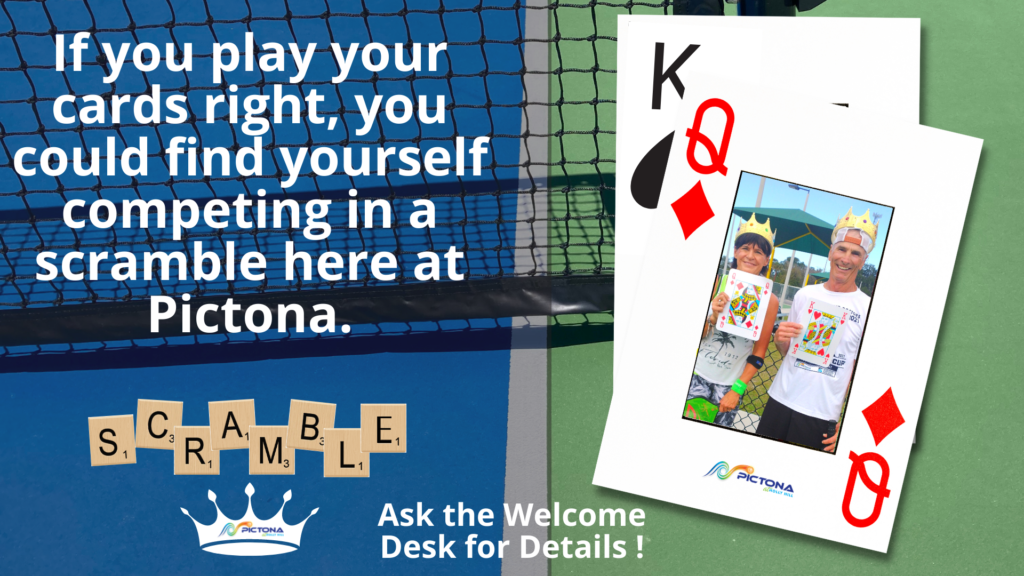 Come join us at Pictona for one of our most popular events, a Pictona Scramble!
You can sign up via the Pictona member online app here, or contact the Welcome Desk at 386-310-7067.
What is a Scramble?
A scramble is an organized style of play that allows participants to move up or down a "ladder" based on whether their team wins or loses a game. 
Who can participate in a Scramble?
Scrambles are open to Pictona members and non-members. There is no cost to Pictona members, non-members will need to pay the daily pass rate of $12+tax or purchase a membership. Find out more about memberships including rates here.
How are players placed in a  Scramble?
Scrambles are open to members and non-members, and are limited to 36 participants. There is no cost to members. Non-members will need to pay the day pass rate to play.
The initial starting positions for the first scramble of the season will be determined by a staff member or participant who is knowledgeable about the participants skill level. If a participant is unknown, they will be contacted and asked to self-rate and will be placed at an appropriate starting position.
During 3.5+ Skill Level Scrambles participants will be asked to record how many points they and their partner scored in their match. These scores will accumulate each week to assist the Scramble manager in ranking players and creating the weekly starting positions. Those participating in the 3.0-3.5 Scramble need to only record their finishing position at the end of each Scramble.
For following weeks, the finishing position of the participants from the previous week, along with accumulated scores, and the Scramble managers knowledge of participants skill levels will be used to establish starting positions. Once the starting positions are established and emailed to the participants (2 days before the Scramble) any additional sign ups will be added to space at the bottom courts.
Weekly Scrambles for the 3.5+ skill level will include 5 games that are played first to 11 win by 1, switch ends at 6. 15 minute time limit.
Weekly Scrambles for the 3.0-3.5 skill level will include 5 games that are play to 11, win by 2. Between games a 3 minute break is allowed for hydration and court rotations. 
Court 9 will be designated as the low court and court 23 will be the top court where Kings and Queens will be crowned each week!
How do players rotate after each game in the Scramble?
Participants will be assigned their partners and starting courts before each Scramble begins.
After the completion of the first round of games players will rotate as follows:
Losers will move down a court, except for court 9 where the losing team will remain.
Winners will move up a court except for the winning team on court 23 who will remain.
To decide game partners a member from each team will put a 1 or 2 behind their back. If the players have picked the same number, they will play together. If they have picked differing numbers they will play with the other person from the opposing team.
For mixed doubles partners will switch and play with the opposite gender from the other team.
The two teams that will not split are the winning team on court 23 and the team that is moving up from court 22 to challenge the winners on court 23.
What if there is not a multiple of 4 to fill the courts?
A roll call will be conducted by a designated Volunteer Lead Scrambler before the beginning of each Scramble. If there is a no show at roll call, then all current participants will move up one slot in the ladder.
If this leaves 3 players at the bottom court they will play cutthroat pickleball. The two players with highest score at the end of the round will be deemed the winners and move up to the next court
If there are 2 players left on the bottom court, they may choose to play full court singles or skinny singles. Both players will move up.
If there is one player left on the bottom court, they will have a bye. In the next rotation the losing team moving down will have to decide who will take the bye and sit out.
An effort can be made by the group to try and recruit additional players in the facility as needed to try and get to multiples of four for the scramble. Additional players can be added to the bottom court after play begins to also try to get to multiples of four.
No Shows or those who leave mid-Scramble
We understand that life happens and sometimes your best laid plans are disrupted. If you are unable to attend a Scramble please respond to the starting lineup email you received prior to the Scramble. If the email has not yet been sent, please contact the Welcome Desk at 386-310-7067 and have them withdraw you from the Scramble. We appreciate you giving us the opportunity to try and fill the Scramble to create the best experience for all participants.
If a player signs up to participate in a Scramble and is a no show and no call/email two times they should contact the member director Paul Lambers @ PaulL@pictona.org before registering for another scramble.
We all occasionally have bad days on the pickleball court.  Should this happen to you during a Scramble we ask that you show good sportsmanship, play the match and then move on to your next matches. If a participant walks out of a Scramble for a non-emergent reason they will not be allowed to participate in the remaining Scrambles for the season.
When will Pictona Scrambles begin, what days will they be played on and will there be different skill levels?
The 2022 Scramble season will restart September 10 and will run on the following days.
Monday  9am-11am Women's Scramble 3.5+ Skill Level
Tuesday  9am-11am Women's Scramble 3.0 Skill Level
Wednesday 9am - 11am Mixed Scramble 3.5+ Skill Level
Mixed scrambles may not be a true mixed event unless there is an equal number of men and women playing.
Not sure of your skill rating?  Pictona has a new rating assessment program you can learn more about here. 
Do I have to play every week?
No, you do not have to sign up for all 10 weeks (although we hope you do!) However, if you skip a week you won't be able to secure your starting spot from the previous week's scramble.
How do I sign up?
You can sign up for all 10 weeks or the specific days you want to play via the Pictona member online app here, or contact the Welcome Desk at 386-310-7067.