Thank you for registering for your FREE Pictona PB101 Class sponsored by Karen Dillard of RealtyPros.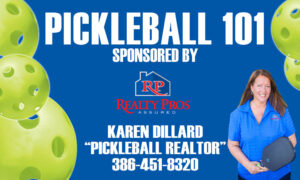 Our instructors are excited to teach you the basics of play and scoring for this fun and engaging sport.
When checking in for your PB101 clinic please come to the Welcome Desk. When inside either the clubhouse or the restaurant you will be required to wear a mask. While you are encouraged to, you are not required to wear a mask when outside on the pickleball courts.
If you have been feeling unwell or have shown COVID-19 symptoms in the previous 14 days, please DO NOT come to Pictona.
Once checked in head down to Court 8 to meet your instructor and other PB101 clinic participants. If you do not have your own paddle, we will provide you with a paddle. Pictona will be providing balls for your clinic.
Pictona does have 2 water fountains that have touchless water bottle fillers for you to use. Please bring a water bottle with you and drink plenty of water to stay hydrated!
The clinic will be an hour-long session and then you are invited to stay for as long as you like and continue playing. We simply request that if you borrowed a paddle that you return it to the Welcome Desk before leaving.
Our onsite restaurant named The Kitchen is open to the members and the public. Feel free to grab a delicious meal and cold drink after you have worked up your appetite playing Pickleball! Check out The Kitchen menu here https://pictona.org/the-kitchen/.
Again, we are excited to host you for Pickleball 101 and show you how to play this fun game!
If you are unable to attend your PB101 class please let us know by calling the Welcome Desk at 386-310-7067.
Pictona is located at 1060 Ridgewood Ave, Holly Hill FL 32117.
Below is a map showing where to enter the facility and find parking.
The Pictona Staff