THIS EVENT HAS BEEN CANCELLED -  WE HOPE TO RESCHEDULE THIS AT SOME POINT IN 2022.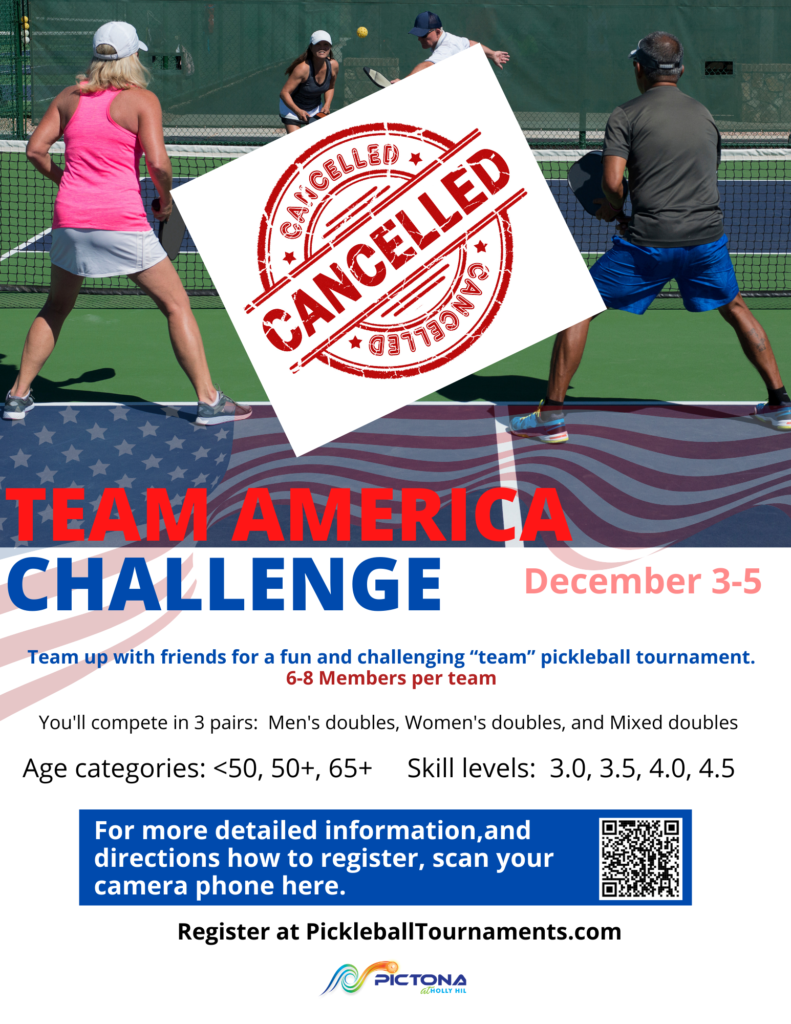 Team up with friends for a fun and challenging "team" pickleball tournament. Create a team of 6 to 8 players to compete in our first Team America Challenge at Pictona. Competition will be in 3 age categories and 4 skill levels.
Tournament Format
You need a minimum of 6 players and a maximum of 8 players to form a team. All players must be the same age/skill level. If one or more members of the team are a higher age or skill level, the team must play at that higher age/skill level.
You will compete as three pairs: Women's doubles, Men's doubles, and Mixed doubles.
You will compete in these doubles matches against other teams within your age/skill category with the winners of games, matches, and team totals determining the winners (see team scoring below).
Each team plays 3 other teams in a round robin followed by playoffs when there are multiple brackets in an age/skill category. Games are 2 out of 3 to 11, win by 2 and matches are 2 out of 3 games.  
Forming a Team
You need an Organizer to create the team. Someone also needs to be the captain of the team. The Organizer and the Captain may be the same person or not. The captain may be a member of the team or not. You might have 4 women and 4 men on the team, with a ninth person as the captain. In this case the captain would be a non-playing member of the team. Or you may have 5 men and 3 women on the team or 5 women and 3 men with one of the 8 players serving as captain. Or you may have 3 women and 3 men with one of the players being the captain. 
Tournament Schedule
Dates: December 3-5, 2021
Schedule: 65+ all skill levels on Friday, 50+ all skill levels on Saturday, and under 50 on Sunday.
Location: Pictona at Holly Hill, Florida, a community in the greater Daytona Beach area
Tournament fee: $600 per team ($75 per player if 8 players, $85 if 7, and $100 if 6 players)
Awards: Gold and Silver medals for first and second place for each team member
Shirts: Team America Challenge shirts for all players
Register at PickleballTournaments.com as a team.
Coaching
One player is designated as captain who determines the "line up" of players for each match. The captain may make one substitute per match but only between games, not during a game unless there is an injury requiring the player to be removed. Coaching is permitted by any member of the team at all official timeouts and between games. No coaching is allowed during play.
Team Scoring:
Your team will play three matches at the same time – women, men, mixed – against another team of your age/skill level. Team scoring is based on total points earned by the team during round robin play. Your team receives:
1 point for each individual game won,
2 points for a match win, and
3 points for a team win over an opponent
For example, if you win 2 of 3 games in a match your team receives 1 point for each game won and 2 points for winning the match, a total of 4 points. If all 3 of your matches are won by 2 of 3 games, your team receives 4 points for each match or a total of 12 points, plus 3 points for winning the team match, or a total of 15 points. If your team loses 2 games, but wins one game, your team receives 1 point.