You are a super senior ready to play pickleball with players your age and skill level. Welcome to the Super Seniors at Pictona Tournament (not an SSIPA event). We'll welcome you to one of the finest pickleball facilities in the world and guarantee you 3 matches and possibly a playoff.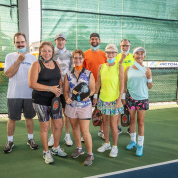 Dates: May 17-19, 2021
Location: Pictona at Holly Hill, Florida
Divisions: Men, Women, Mixed
Age categories: 60+, 65+, 70+, and 75+
Skill levels: 3.0, 3.5, 4.0 and 4.5
Format: 4-team round robin with playoff when multiple brackets
Women play Monday May 17, Mixed play May 18, and men play May 19
Tournament fee: Non-members $40, members $30.
Register at PickleballTournaments.com