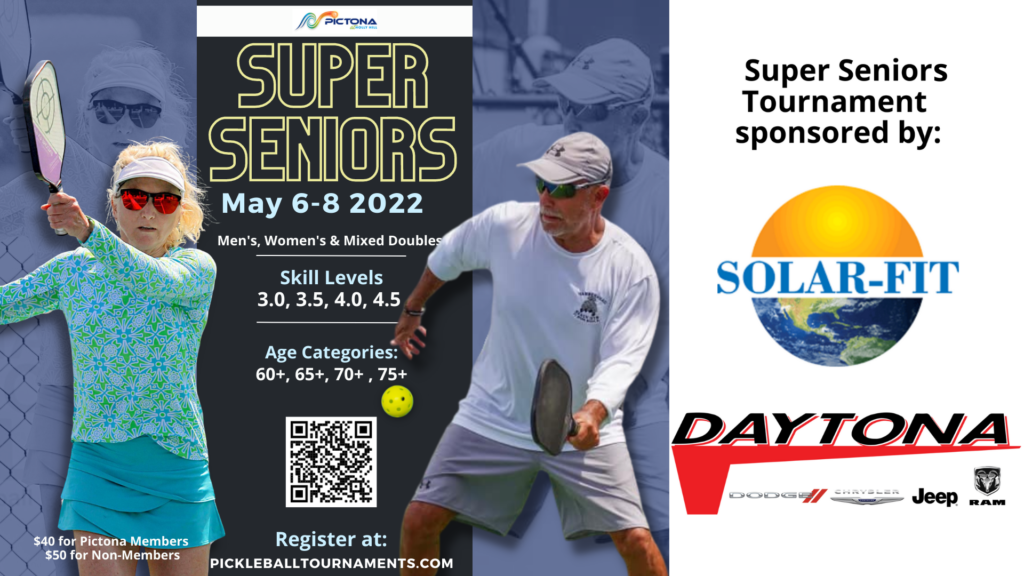 Welcome to the Super Seniors Tournament at Pictona May 6-8 sponsored by Solar-Fit and Daytona Dodge who support Racing to Prevent Suicide. This is a tournament for men and women 60+ playing in 4 skill classifications: 3.0, 3.5, 4.0, and 4.5. We welcomed 200 seniors to this event in 2021. You told us you like the venue and the round robin format. So we hope to see you in 2022.
Dates: May 6-8, 2022
Location: Pictona at Holly Hill, Florida
Divisions: Men, Women, and Mixed
Age categories: 60+, 65+, 70+, and 75+
Skill levels: 3.0, 3.5, 4.0 and 4.5
Format: Round robin with playoff when multiple brackets
Women play Friday May 6, Mixed Doubles play Saturday May 7, and Men play Sunday, May 8
Tournament fee: Non-members $50, members $40.  Register at PickleballTournaments.com

*Tournament play will begin at 8 am each morning, with the days competition wrapping at approximately 4:00 pm (weather permitting).