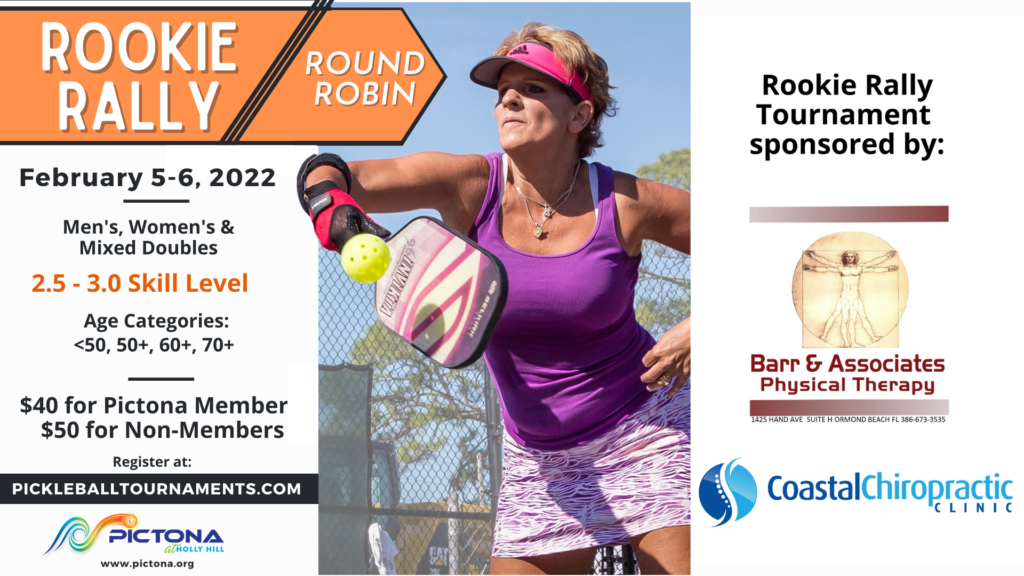 If the pickleball bug has bitten you recently and you are working on mastering your skills, then Pictona's Rookie Rally is a tournament just for you. It is your opportunity to play others of like skill and age in a fun round robin format. Team up with your partner to play men's, women's, and mixed doubles at the 2.5 and 3.0 skill level.
We held this event last May with 164 "rookies" (a positive term for novice players). You told us you enjoyed the event and would like us to conduct the tournament again. We aim to please so here is our Rookie Rally 2022 to be played February 5-6, 2022.
Not sure what your skill level rating is? USA Pickleball provides guidelines to help you determine your rating. Go here to see the criteria for 2.5 rating.  And here for the criteria for 3.0 rating.
If you are in doubt about applying these criteria to your own play, ask a higher skilled player to watch you play and review these criteria with you. As you begin your journey into tournament play, you'll want to rate yourself as accurately as possible so that you are not under or over-matched. The best competition is among equally matched opponents.
Register now for this fun tournament at PickleballTournaments.com. Here are the details for playing in the Rookie Rally 2022.
The Rookie Rally is proudly sponsored by Barr & Associates Physical Therapy  and Coastal Chiropractic Clinic.
Dates: February 5-6, 2022
Location: Pictona at Holly Hill, Florida
Divisions: Men, Women, Mixed
Age categories: <50, 50+, 60+, and 70+
Skill levels: 2.5 and 3.0
Format: Round robin with playoff when multiple brackets
Women and men play Saturday February 5, and mixed play is Sunday, February 6
Tournament fee: Non-members $50, Pictona members $40.
Register at PickleballTournaments.com.