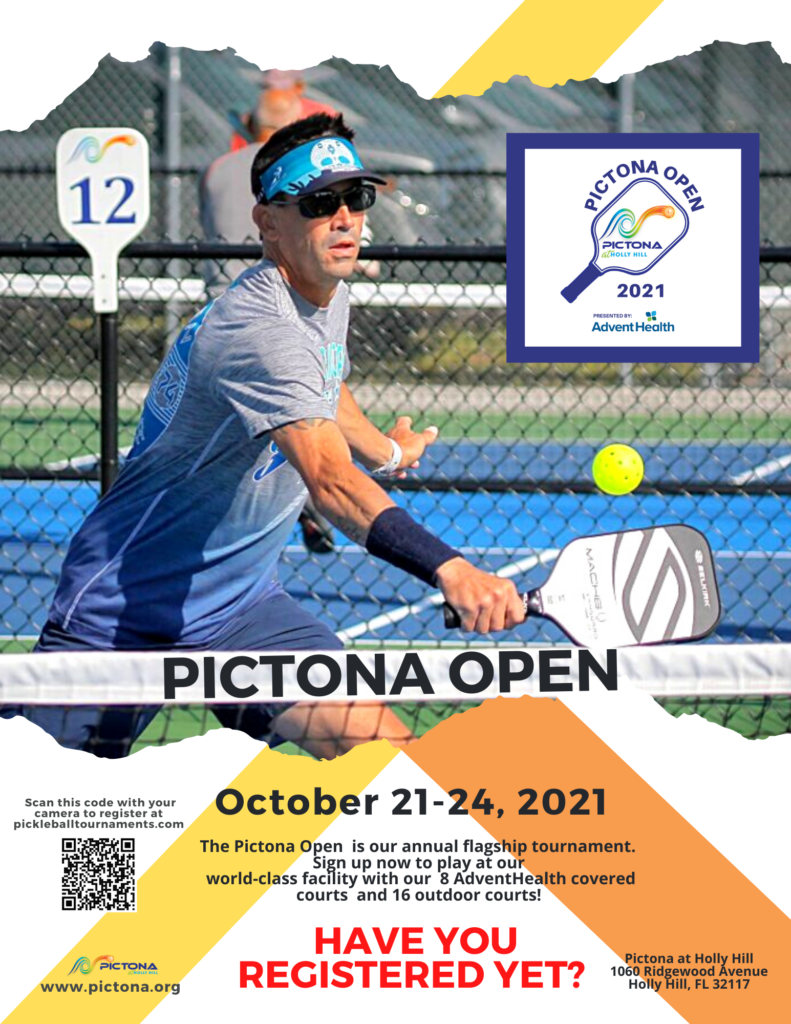 We held our first tournament at Pictona in October 2020 under the title Fall Vintage tournament We will host this tournament again under the name Pictona Open.  This year's Pictona Open is presented by AdventHealth.  Players responded with such enthusiasm to our first tournament last year that we overbooked the event with 650 players. With apologies, we ran late into the evening. We now run tournaments on time except when weather intervenes.  Join us for a superb national tournament at one of the finest pickleball facilities in the world. We've expanded the tournament to 4 days to accommodate six age divisions and 5 skill levels, retaining our popular round-robin format. Check out the details below and then join us for a spectacular tournament in beautiful Holly Hill, part of the greater Daytona Beach area.
Dates: October 21-24, 2021
Location: Pictona at Holly Hill, Florida
Divisions: Men, Women, and Mixed doubles
Age categories: <50, 50+, 60+, 65+, 70+, and 75+
Skill levels: 3.0, 3.5, 4.0, 4.5 and 5.0
Format: 4-team round robin with playoff when multiple brackets
Match Play: 2 games out of 3 to 11, win by 2
Women play Thursday-Friday, Oct. 21-22, mixed play is Friday-Saturday, Oct 22-23, and men's doubles is Oct. 23-24.
Tournament fee: $75
Register at PickleballTournaments.com