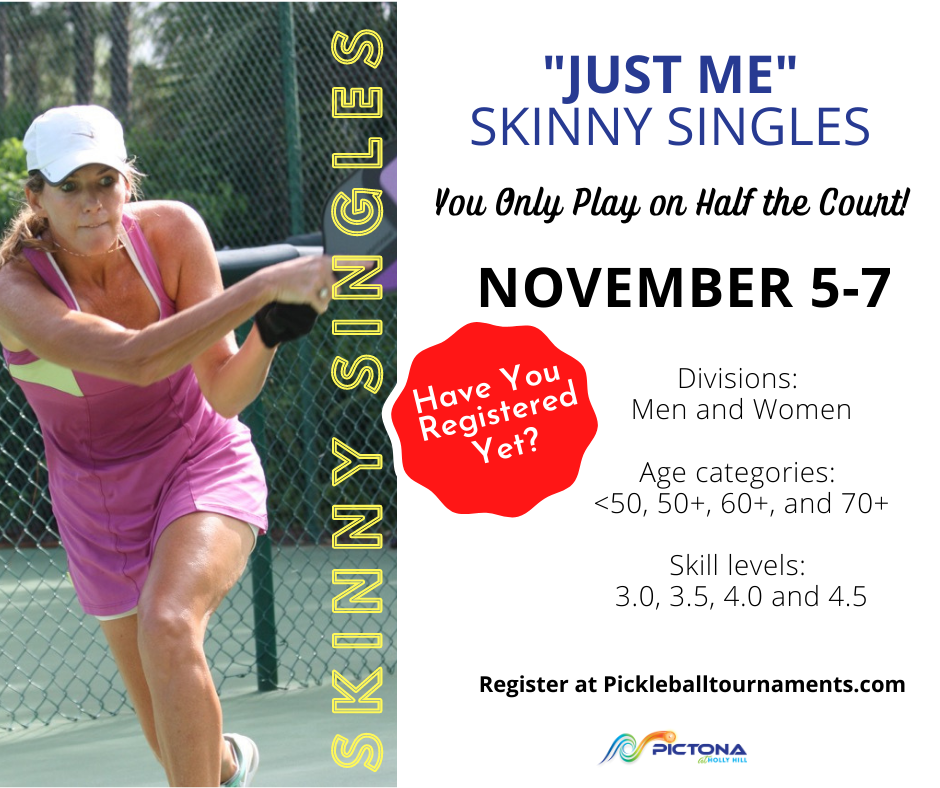 Pickleball singles is a great game, but for some it is too challenging to cover the full court. If that's your case, we've got a tournament for you. It's our "Just Me" Skinny Singles tournament where you play only one side of the court. Skinny singles places a premium on accuracy without the sprinting from side to side. And it's "just me" against "just you," a fun alternative to full court singles.  We'll be on the outside courts unless it rains and then we'll move to the covered courts. Come enjoy the amenities of Pictona and skinny along with us.
Dates: Nov. 5-7 2021
Location: Pictona at Holly Hill, Florida
Divisions: Men and Women
Age categories: <50, 50+, 60+, and 70+
Skill levels: 3.0, 3.5, 4.0 and 4.5
Format: 5-player round robin with playoff when multiple brackets
Match Play: 2 games out of 3 to 11, win by 2
Women play Friday and Saturday, Nov. 5-6 and men play Saturday and Sunday Nov. 6-7.
Skinny Rules: As in doubles, if the server has an even number of points, the server serves from the right court to the receiver who is in the right court. If the server scores a point, the server serves from the left court to the receiver's right court. The receiver does not move until the receiver becomes the server and scores a point.
Tournament fee: $50
Register at PickleballTournaments.com