You have been bitten by the Pickleball bug and are beginning to play pickleball with some success! You are able to follow the scoring, understand basic court
positioning and are having a great time playing. Now you are ready for a little more instruction when it comes to serving, dinking and working with your doubles partner. Pickleball 201 is the next step in your Pickleball journey!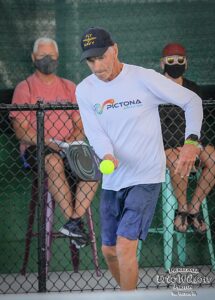 Our PB 201 class is 90 minutes of instruction during which time you will learn the basics of the game with our capable Pictona instructors.
This class will help you with the following skills through a variety of drills:
With your forehand, the ability to hit medium paced shots when serving, returning serves, and volleying, working toward improving the accuracy and consistency.
With your backhand, the ability to volley and dink with greater accuracy and consistency.
Learn essential tactics by recognizing when to hit the ball to certain positions.
Coordinate with your partner to know who should hit the ball when.
Classes are limited to 8 or less participants to maximize your opportunity to learn game strategy and participate in skill instruction. 
The class is open to both members and non-members. Participants must pre-register using either the member online reservation app or by calling the Pictona Welcome Desk at 386-310-7067. Check the Events Calendar or contact the Welcome Desk for dates and times. The cost of the class is $30 and is paid at the time of registration. Participants will receive a $5 voucher to use at The Kitchen after participating in their class.