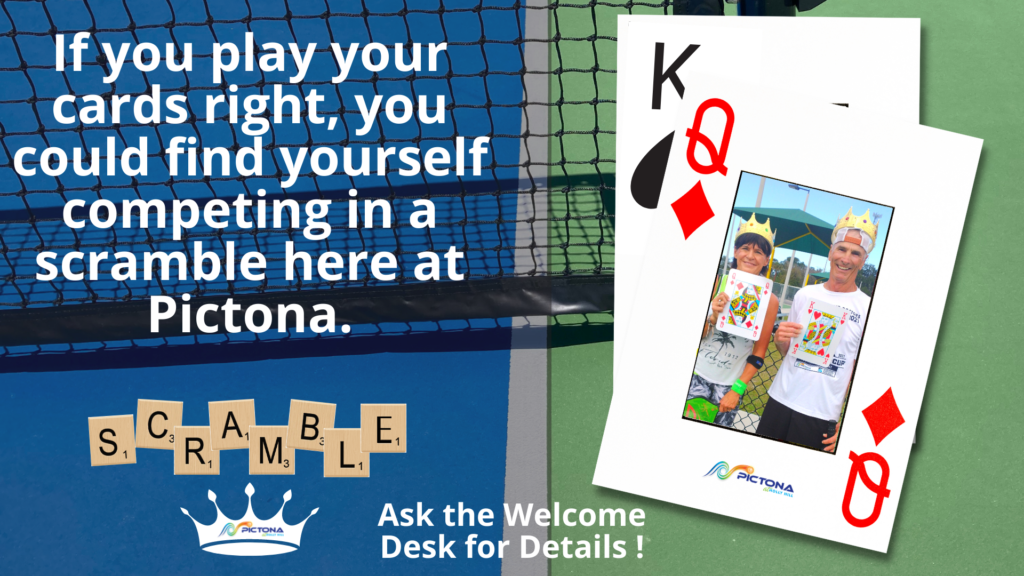 A scramble is an organized style of play that allows participants to move up or down a "ladder" based on whether their team wins or loses a game. Goal is to end the day on the top court! If there are 24 or more players, then we will have two brackets with a playoff of the winners on the top two courts of game 5. They will play a 6th game for Gold Crown and Silver Medal. The teams that didn't win on the top two courts during game 5, will play a 6th game against each other for the Bronze Medal. We will post photos of our top three teams in our social media pages.
This weekly event will be held on the outdoor courts 37-44. We have a parking lot off 10th Street with a player check-in at the Pictona 2 Welcome Desk inside the West Entrance (closer to the assigned courts). You also need to check in at our reserved courts 10-15 minutes before 9 AM so we can conduct our "blind draw" for starting court and partner! For game two, you and your original partner with move up or down and split. You will toss a coin to determine which team serves and which new partners play together. If you win on the the top two courts, you play with the same partner for the next game.
PLEASE NOTE: Late arrivals (anyone arriving after 8:55am) are not guaranteed to participate. In case of inclement weather, all organized events will convert to open play on covered courts.
To ensure evenly matched games, we ask that you DO NOT SIGN UP for two different skill level events in the same week. We DO NOT want the same person winning two different skill level events. If you sign up for the incorrect level, then you are taking a spot away from a player that is. Thank you. 🙂
Sign Up Here