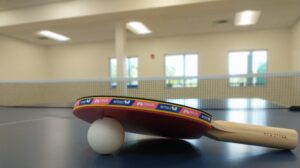 Our mission is to make Pictona at Holly Hill your destination for Table Tennis play in the greater Daytona Beach area.
A 1200 sq ft dedicated indoor space with four Joola Tour 2500 club tournament tennis tables awaits Pictona's Table Tennis members! The Pictona Table Tennis Club is open to everyone, offers activities to accommodate all age groups and skill levels, and provides opportunities for instruction, recreational play, and competitive play.
 Table Tennis Club play is scheduled for Tuesday and Thursday 6pm to 9pm and Saturdays 10 am to 2 pm. Open play is 7 days a week 7:30 am to 9:00 pm other events permitting.
Have questions or want to know more about playing Table Tennis at Pictona? Contact
Sarah Lockett – Pictona Events and Assistant Manager
Email: sarahl@pictona.org  Phone: 386-310-7067
Russell McBride – Pictona Club Rep
Email: PictonaTableTennis@gmail.com