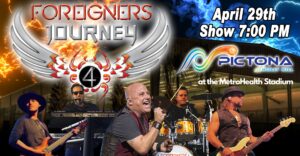 ---
One of the top Tribute shows in the nation, Foreigners Journey, will pay tribute to two of Rock & Roll's most iconic acts, Foreigner and Journey 7 p.m., Saturday, April 29 at the MetroHealth Stadium at Pictona in Holly Hill, Florida. Tickets are available for purchase online at www.hollyhillevent.com. Ticket prices range from $27 - $37 plus applicable surcharges. Box seats start at $45 each plus applicable surcharges.
Foreigners Journey has decades of experience, evocative vocals by lead singer Keith Carmichael, and frequently repeated performances at Theatres, Epcot, Hard Rocks and festivals for tens of thousands of fans. You'll hear legendary songs such as 'Feels Like The First Time', 'Hot Blooded', 'I Want To Know What Love Is', 'Separate Ways', 'Anyway You Want It' and 'Don't Stop Believing'. You won't want to miss this show.  Come relive the glory days of the 80's with Foreigners Journey!
The Metro Health Stadium at Pictona is located at 1060 Ridgewood Avenue in Holly Hill, Florida. Parking is available on site for $5.00. For additional information, visit www.hollyhillevent.com or call 386-492-3227.