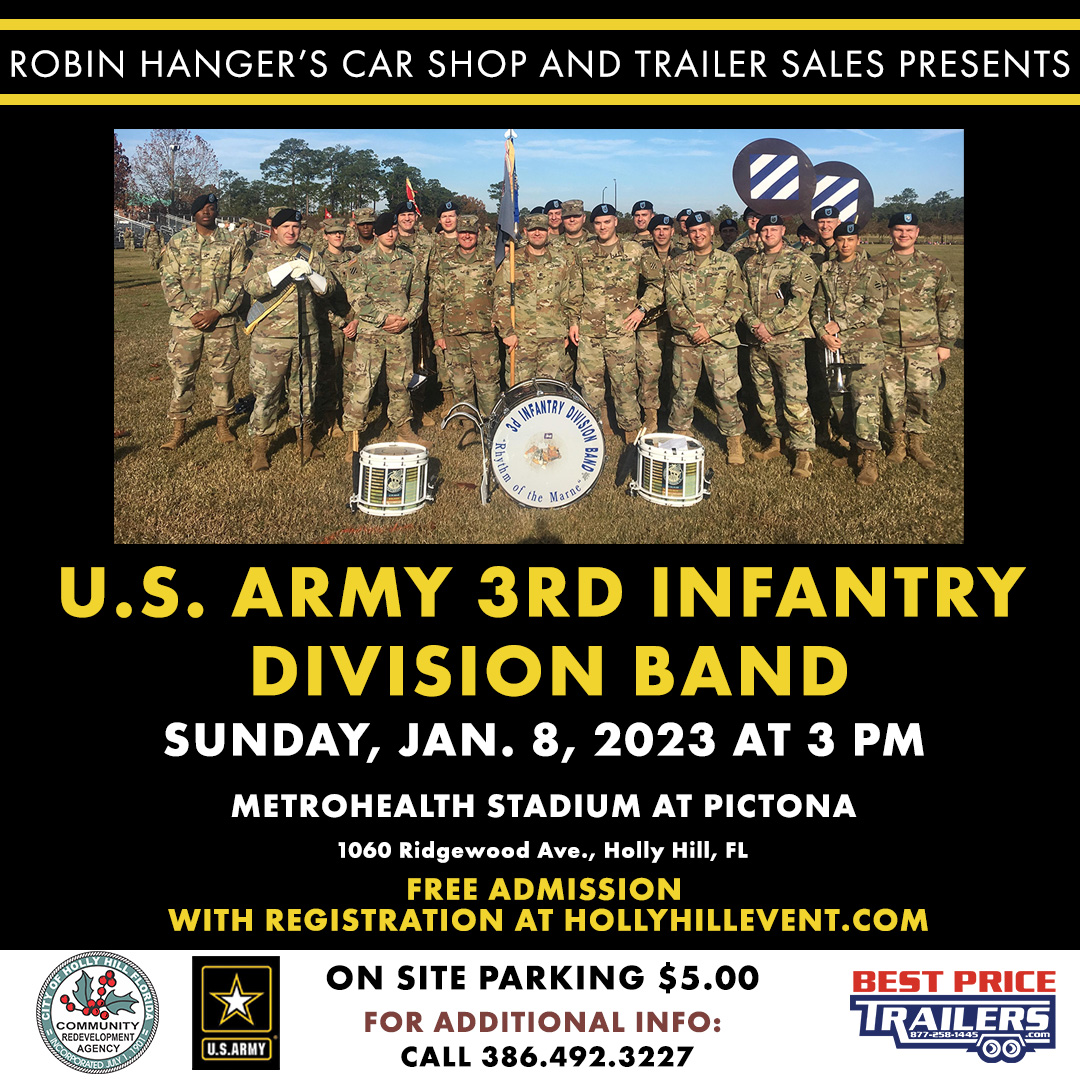 The Holly Hill Community Redevelopment Agency and Robin Hanger's Car Shop and Trailer Sales presents the U.S. Army 3rd Infantry Division Band performing at 3 p.m., Sunday, January 8, at the MetroHealth Stadium at Pictona in Holly Hill, Florida.Admission to this event is FREE, registration is required for entry.Tickets are available now by registering online at www.hollyhillevent.com.
The 3rd Infantry Division Band is a 40-member unit and has a variety of performing groups and will showcase their ensembles at this concert. Now known as the "Best Band in the Land", the band is a regular participant in both military and civilian events on Fort Stewart in Hinesville, GA and Hunter Army Airfield in Savannah, GA. The band also travels throughout the southeastern United States as a goodwill ambassador for the United States Government. This organization has performed in Africa, France, Italy, Central Europe, Korea, Iraq and Afghanistan.
The 3rd ID Band performs over 400 commitments a year to include the second largest St. Patrick's Day celebration in the nation, the St. Patrick's Day Parade in Savannah, GA. In addition, the band has performed for many dignitaries and celebrities including: former Presidents Bill Clinton and George H.W. Bush, The Secretary of Defense, Secretary of the Army, Chairman, Joint Chiefs of Staff and Presidents and Dignitaries of several foreign nations."
The Metro Health Stadium at Pictona is located at 1060 Ridgewood Avenue in Holly Hill, Florida.
Parking is available on site for $5.00.
For additional information, visit www.hollyhillevent.com or call 386-492-3227.