Looking for a fun activity to do with your employees and co-workers?
Bring your team to one of Pictona's three Corporate Game Events listed below:
Learn to play Pickleball!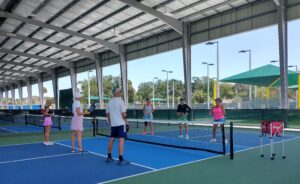 Not only does Pickleball have a fun name but is an easy game for all skill levels to learn and play!
Bring your group out for great team building experience as our Pictona instructor teaches the games basic strokes and rules. After 45 minutes of instruction we will have your group playing Pickleball! Your group will have their own reserved courts for two hours for instruction and play time. Pictona will provide all the necessary equipment to play, you just need to bring your athletic shoes and be ready for a good time!
Pickleball Office Challenge!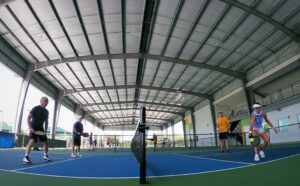 Do your team members already play Pickleball? Then we can arrange a fun Pickleball round robin for your group. Group members will be paired up and play a pre-determined schedule against opponents. Points will be awarded for wins and the team that earns the most points during the challenge will be awarded a Pictona Office Challenge Winners Trophy!
Corporate Rec Game Social Hour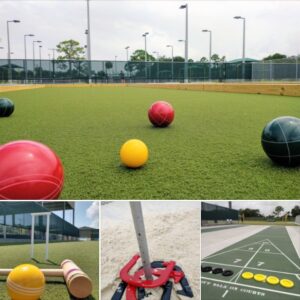 Looking for a fun and safe event for your group? Join us at Pictona for a few fun hours as you play our recreational games. Choose one game or all four games and our Event host will guide your group through the rules and demonstration of the four games of Shuffleboard, Croquet, Bocce Ball and Horseshoe Toss.
This a great opportunity for your team members to have some lighthearted fun as they play these friendly games.
How To Book Your Event Today!
All three of Pictona's Corporate Game Events are available to groups with a minimum of 8 participants and a maximum of 24 participants. 
Corporate Game Events are $35 per head and include a meal selection for participants from our Events menu. Your group will dine either inside Pictona's restaurant, The Kitchen, or at our outside dining space under the SR Perrott Pavilion. You can view the Events menu here. If you have a special request for menu items or would like to add on a Beer & Wine option for your event please let us know and we will accommodate your request where possible (there may be additional charges). 
If you have further questions, have a group larger than 24 or you are ready to book your event today please contact Events and Assistant Manager Sarah Lockett at sarahl@pictona.org or 386-310-7067